Internet Explorer 9 is series of graphical web browsers developed by Microsoft .IE (Internet explorer) has been losing potential users for a number of years now. In an effort to keep their users they have offered a new internet explorer version 9.IE9 give everything that users want and need in a web browser.
Internet Explorer 9 should be the go-to browser for organizations concerned about protecting computers from malicious downloads, according to a new study from NSS Labs: Microsoft's browser trounced rivals Chrome, Firefox, and Safari in the security company's more recent malware-blocking tests, a significant win considering that traditional malware remains among the most prevalent threats to users.
Internet Explorer
9 provides the best features for

Windows

. Here are the top features which is providing by windows internet explorer 9.
Hardware-accelerated text, video, and graphics speed up performance and make websites perform like programs that are installed on your computer.
Internet Explorer 9 gives internet users a cleaner web browsing experience. Tabs, buttons and other items are all moved into one row instead of cluttered all over the screen.
Any other area where IE has taken the privacy-related issue of tracking protection. Most sites request content from third parties, and often these are ad networks that track users' web surfing habits and build up profiles by combining data from many sites that use the same third party.
The Ability to Pin Tabs
Tab pinning
IE9 offered a tab pinning option. This means if you have a tab that you can visit a lot or need to keep referencing, you can pin it so it doesn't move down the list. Also included in the tab pinning option is the ability to pull up a row of all tabs so you can see each window and tab in real time and flip back and forth to it.
Unified Address Bar
IE9 that makes it address bar unified – it means address bar is unified box for navigating the site or start a search. When you type the words, it gives you suggestions from your history and bing with inline images.
Redesigned New Tab Page
IE9 giving the facility of new tab page which is totally redesigned to give a quick access to the sites you visit often and also display that site's icon, title and a bar to indicate the relevant frequency of visits. You can also reopen the closed tabs or your last browsing session or start a new Private browsing session.
Improved Add-on Management
Add-on management offer the Add-on Performance Adviser which gives you an idea about which add-on is slowing down your browsers and allows you to disable or remove it permanently to ensure that your browser always loads up fast and runs fast.
Better Privacy Features
The new

tracking

protection feature enables you to limit the sites that can

track

your information when you are online. It means there is a built-in blacklist option than helps you choose certain websites and block them.
HTML5 Support
Google Chrome has supported HTML5 location capabilities since version 5 came out last spring, and Firefox and Opera also support this technology. Finally, Internet Explorer 9 uses the services and supports HTML5. This will allow you to open HTML5 designed websites, video and audio and other HTML5 goodies. IE9 also supports SVG and Canvas graphics.
New Download Manager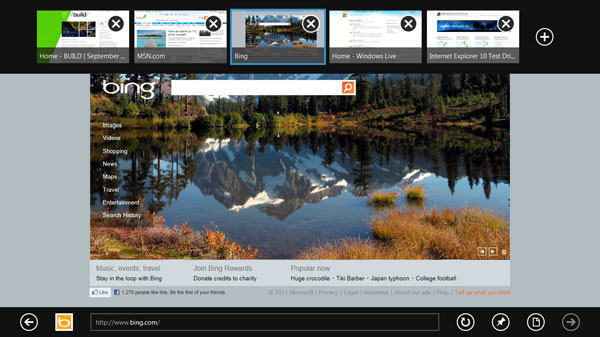 Tab management
Internet explorer 9 ,allows you to view your files that are downloading through your browser. You will find the option "View Downloads" in the options menu at the end of top toolbar. It also notifies when a downloaded file is malicious or contains viruses. It also helps you to pause any of the download and resume it later.
Enhanced Tab Management
Tab Management has been improved tremendously in IE9 as well and now it implements the feature of tab tearing similar to Opera, Chrome, Safari and Firefox. You can easily move tabs between windows by tearing them from one window to another.